Ashtanga Yoga
Online Course
(via zoom)
with Nea Ferrier
July – December 2020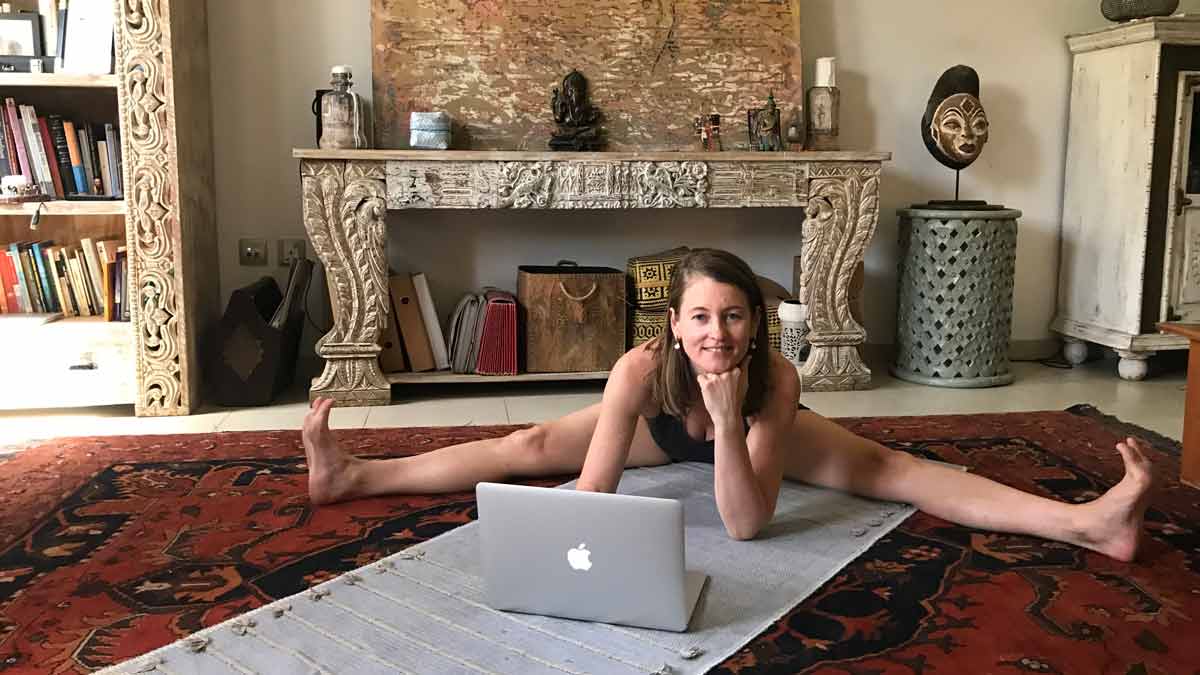 We've designed this course for students wanting a thorough immersion into the practice of Ashtanga Yoga under the guidance of an authorized teacher, but who are not able to come into our shala in Al Quoz due to distance or time constraints.
The course includes;
Full access to Ashtanga Yoga Dubai's online class schedule;
Ashtanga level 1, Mysore, Full led primary classes
Up to ten classes per week to choose from
Two Saturday workshops per month
Asana techniques workshop (2.5 hours)
Theory lecture (1.5 hours)
The course is open to students of all levels including beginners. All classes and workshops will be live and interactive (via zoom). Students may enroll in the first three months only (July – September) or the full six months (July – December).
Enrollments close June 15. Spaces are limited.
PROGRAM
Asana techniques workshop (once per month)  – topics including breath, bandhas, foundational asana

Theory lecture (once per month) – topics including history of yoga, introduction to the philosophy of Ashtanga yoga, introduction to Ayurveda – lifestyle supports for yoga practitioners, Ashtanga Yoga for women, through different life stages

Participation in a minimum of two online classes per week (Ashtanga level 1/Ashtanga full primary/ Mysore class)
Asana techniques
(2.5 hours per month)
Month 1: Surya Namaskars
Month 2: Standing Postures
Month 3: Forward bending/hip mobility
Month 4: Jump backs/thru
Month 5: Twists/Back-bending
Month 6: Inversions/Meditation preparation
Theory Lectures
(1.5 hour per month)
Month 1: History of Yoga
Month 2: Methodology of Ashtanga Yoga
Month 3: Sanskrit chanting: Opening & Closing Prayers
Month 4: Introduction to Patanjali's Yoga Sutras
Month 5: Lifestyle of a Yogi: Dinacharya – daily habits
Month 6: Lifestyle of a Yogini: Special focus for women
Saturdays
July 4 & 18
August 8 & 22
Sept 5 & 19
Oct 3 & 17
Nov 3 & 21
Dec 5 & 19
Times 3:00-4:30 or 3:00-5:30pm
Sunday
Monday
7:00am – Mysore class
6:00pm – Led class
Tuesday
6:30am – Led class
4:00pm – Ashtanga level 1
Wednesday
7:00am – Mysore class
6:00pm – Led class
Thursday
6:30am – Led class
4:00pm – Ashtanga level 1
Friday
*Please note this timetable is subject to change.
PRICING
EARLY BIRD PRICING BY JUNE 15 (25% LESS)
• AED2060 for three months
• AED3600 for six months 
REGULAR PRICING
• AED2750 for three months
• AED4800 for six months 
SPACES ARE LIMITED
If you have questions please email nea@ashtangayogadubai.com
Teachers
All workshops will be taught by AYD founder and KPJAYI level 2 teacher Nea Ferrier. The classes during the week will be taught be either Nea, AYD senior teacher Alexey Pavylukov or assistant teacher Zainab Ali (Ashtanga level 1).